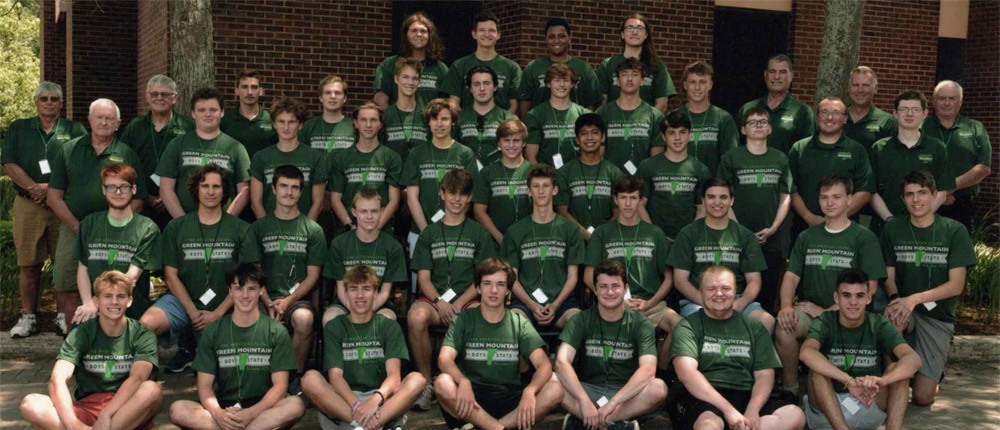 Green Mountain Boys State
---
Program:

Green Mountain Boys' State is a leadership development program for rising high school senior boys.

The focus of the program is Vermont town, county, and state government.
Delegates are elected and appointed to offices within the Legislative, Executive, and Judicial Branches of government.
Delegates work on issues relating to Vermont, and debate these issues at the State House in Montpelier on Thursday.
If you are considering making application to one of the Service Academies, Boys' State is a must!


Dates & Times: Sunday, June 19@ 12:00 Noon – Friday, June 24, 2022 @ 11:30 AM

Location:Northern Vermont University –Lyndon, Lyndonville, Vermont.

Cost: A $25 application fee is required. The balance of the $275 delegate fee is covered by the American Legion.

General Schedule:
Sunday:
Delegate team building; Vermont political party information; developing your political platform.
Monday:
Election of town officers, Town Orientation, Town Meeting, work on Town Problem
Tuesday:
Primary election for state and county offices, Town Meeting, work on Town Problem
Wednesday:
General Elections, Town Meetings, and Organization of Legislature
Legion Recognition & Parents' Night: Band Concert, Inauguration of State officers.
Thursday:
Legislative session at the Capital in Montpelier, All-Star games, Marco the Magician
Friday:
Town Meetings, awarding of Model Town and scholarships, selection of delegates to Boys'
Nation Program in Washington, DC, closing and departure for home.


Activities:
Soccer, basketball, volleyball, The Boys' State BAND: all facilities of NVU-Lyndon are available.

Scholarships:
The Samsung Corporation awards a scholarship of $800 to a direct descendant of a US wartime veteran. The American Legion awards three cash scholarships in honor of past directors Richard Curtiss, Harry Loyzelle, and Norm Messier. Awards to Northern VT University, Castleton University, Norwich University, and recommendation to Middlebury College.

Boys' Nation Program:
Two delegates will be selected to represent Vermont all expenses paid at the Boys' Nation Program in Washington DC in late July.

Staff & Volunteer Resource People:
The staff is comprised of teachers, administrators, business owners, lawyers, legislators, and past delegates. All are volunteers who donate a week of their time to work with our delegates.

Throughout the week, many of Vermont's elected and appointed officials supplement the members of the staff. These professionals include town government officials, law enforcement officers, local development authorities, staff from the Vermont League of Cities & Towns, representatives from the Vermont School Boards Association, members of the Vermont House of Representatives, The Vermont Senate, the Governor, Lt. Governor, Secretary of State, State Treasurer, Attorney General, and Auditor of Accounts.

ALL Information:
Please consult the American Legion – Department of Vermont web site at www.vtlegion.org or contact Dave Cobb, Director at any time at dave.cobb.vt@gmail.com .

---
| | | |
| --- | --- | --- |
| Joe Brody, St. Johnsbury Academy and Jack Fannon, St. Johnsbury Academy 2018 Boys' Nation Delegates | | |



The American Legion
Department of Vermont HQ
126 State Street, P.O. Box 396
Montpelier, Vermont 05601-0396
(800)501-7131 (Toll-Free in VT)
(802)223-7131
Fax: (802)223-0318


Service Officer Information
Rhonda - (802)828-3379

Residents Of NH
Michael Hartt - (603)222-5786





ABOUT




DEPARTMENT



DOCUMENTS








PROGRAM & SERVICES








NEWS & EVENTS









MEMBERSHIP







RESOURCES